Discover the Importance of Understanding Behavior "Below the Surface," Too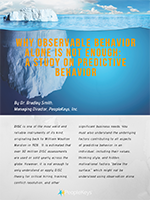 DISC is one of the most valid and reliable instruments of its kind, originating back to Dr. Marston's work in 1928. It is estimated that over 30 million DISC assessments are used or sold yearly across the globe.
However, it is not enough to only understand or apply DISC theory for critical hiring, training, conflict resolution, and other significant business needs. You must also understand the underlying factors contributing to all aspects of predictive behavior in an individual including their values, thinking style, and hidden motivational factors "below the surface" which might not be understood using observation alone.

Complete the form to request your copy of "Why Observable Behavior Alone is Not Enough: A Study on Predictive Behavior in Hiring."